The term Maharashtrian breakfast invokes images of 'misal-pav' or 'vada-pav' or 'Sabudana Khichdi' or 'healthy Dalia recipes'. However, there is more to a Maharashtrian breakfast than these items alone! A few of the other food fare that is healthy, less oily and filling on the stomach is listed below.
1. Amboli with a Veggie Twist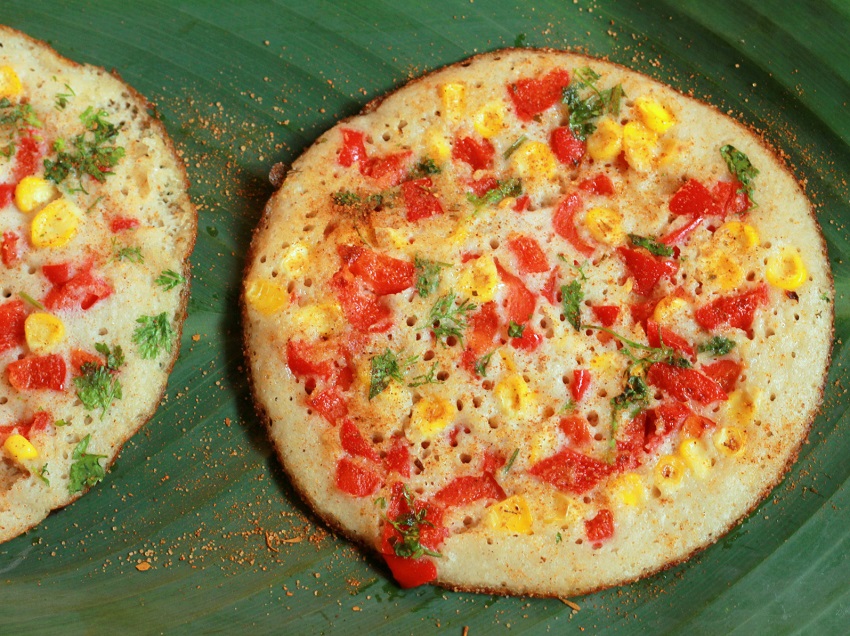 Amboli is a typical Maharashtrian dish that makes for a tasty and sumptuous breakfast. It comprises a porous, fluffy pancake made from the goodness of rice and lentils and normally served with chutney. Here I shall be giving it the veggie twist.
Wash 1 cup rice and ½ cup urad dal and soak them separately for about seven or eight hours. Soak ½ tsp. fenugreek seeds in the urad dal.
Grind the rice and the dal along with the fenugreek seeds keeping the consistency of dosa batter.
Leave the mixture overnight for fermenting
In the morning add salt to the mixture and spread ladleful of the batter on heated Tava. Spread it slightly by moving the Tava.
Now, for the veggie twist. Sprinkle finely chopped red capsicum, onion and boiled corn kernels on the batter covering it and letting it cook for about 2 minutes or so on medium heat. Remove the lid and cook for another couple of minutes. Flip over. Serve it hot with coriander and pudina chutney.
Tip: You get ready Amboli flour in the market. If you want to avoid the chore of soaking and grinding you can buy this flour and soak it overnight. Mix it thoroughly with water to ensure no lumps are formed. Add 2 tsp. of oil to this soaked flour to make yummy, porous pancakes the next day.
2. Puri Bhaji: Classic Marathi Breakfast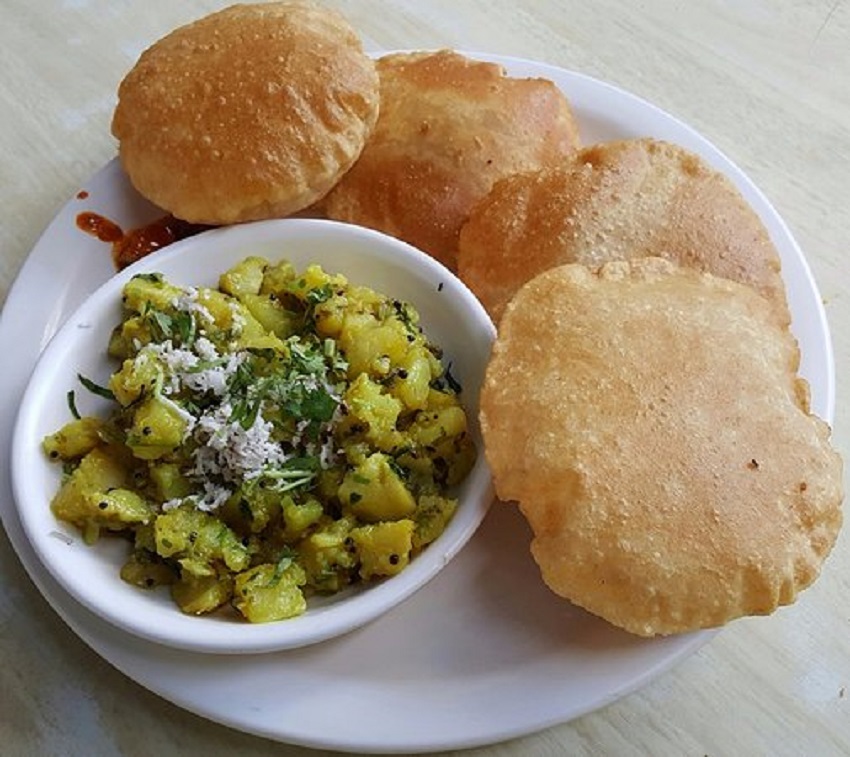 Another popular, filling and tasty Maharashtrian brunch dish is the PuriBhaji. Hot, puffy puris served with mildly spicy potato bhaji tantalize your taste buds and also stave off hunger pangs for a long time.
For the Puris:
The puris are made of wheat flour.
If you take a cup of wheat flour, add 1 tbsp. of besan, 1/2tbsp. of Rava, the slight quantity of salt, 1 tsp. sugar and 2 tbsp. of heated oil to it.
Mix well and knead it tight and smooth. Keep it aside.
After a while roll out puris on a rolling board and deep fry them in medium heated oil.
For the Bhaji:
You boil potatoes and cut them into cubes.
Prepare a seasoning of mustard seeds, grated ginger, green chilies, Hing powder, and turmeric powder. You can add finely cut onions if you wish to.
Sauté the onions and then add the boiled and cubed potatoes.
Cover with a lid for a couple of minutes, stirring in between.
Remove lid and add a few drops of lemon juice.
Stir and turn off the stove.
Sprinkle chopped coriander leaves.
Your Puri Bhaji is ready to be served.
Tip: You can use a drop of oil if the puris keep sticking to the rolling board but never ever use dry flour. In order to make puffy puris, gently press them with the back of your spatula as you drop them in the heated oil.
3. Dhokla Chaat: Cosmopolitan Blend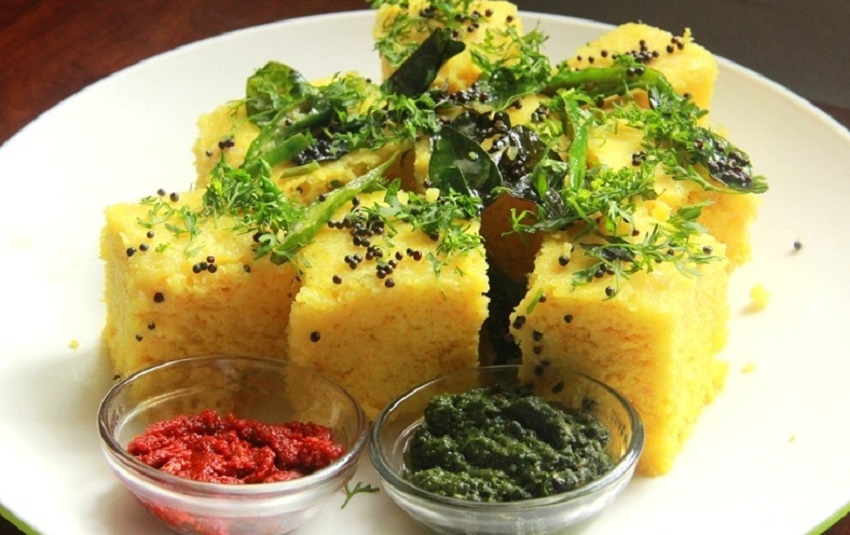 DhoklaChaatmay is not a typical Maharashtrian dish but I have adapted it into my kitchen and have listed it in this section. The dish contains a mix of pulses and rice; it is high on proteins and other nutrients and great in taste too.
This requires slightly more time for the preparation but is totally worth it when you consider the output.
You need to soak equal quantities of moong dal, urad dal, chana dal, masoor dal, and idlirava for about 5-6 hours.
Add four to five chilies and ½ inch ginger to it.
Grind the mixture fine and get it to the consistency of idli batter.
Add salt and leave it to ferment.
For best results steam the batter the next day in the idli container for about 15 minutes.
Cut into small cubes after it is totally cooled.
Temper it with mustard, hing and curry leave seasoning.
While serving sprinkle tamarind and jaggery chutney, freshly grated coconut, chopped coriander, and fine sev.
The steamed and tempered Dhoklasare light and porous and when served with all the toppings make for a tasty and wholesome breakfast.
4. Colorful Dalia Upma: Fiber-rich Dose of Nutrients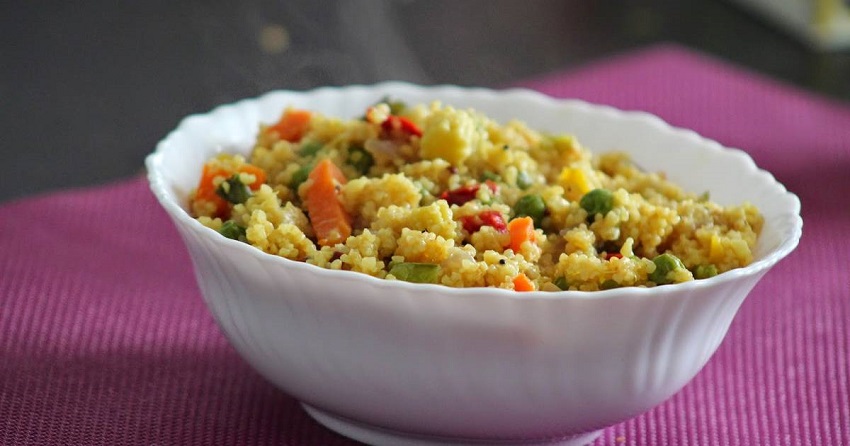 This acts as a one-pot meal, it has fiber, vitamins, proteins, and nutrient-rich veggies. Besides, it is low on calories and hence, becomes a preferred breakfast item for those on a weight reduction diet.
You need to use the smallest variety of Dalia for making this Dalia Upma. Not much preparation is required other than finely chopped veggies such as carrots, capsicum, onion, peas and alongside boiled corn kernels and boiled peanuts. Tomatoes are optional as tomatoes can make the dish slightly mushy.
Preparation
Wash the Dalia and keep aside.
Heat oil in a wok; add mustard and when it sputters add 1 tsp. of urad dal, 1 tsp. of gram dal, pieces of green chilies, grated ginger, curry leaves and the finely chopped veggies.
Sauté for a few minutes till the onions turn translucent.
Add the washed Dalia, stir it and then add water equivalent to three times the quantity of Dalia.
Cover the wok and let it cook.
After it is cooked add the boiled peanuts and corn kernels. Add salt to taste.
Tip: Soak peanuts for half an hour or so before you boil them so that they are cooked very well.
5. Bhajani Thalipeeth: Tasty Stomach Filler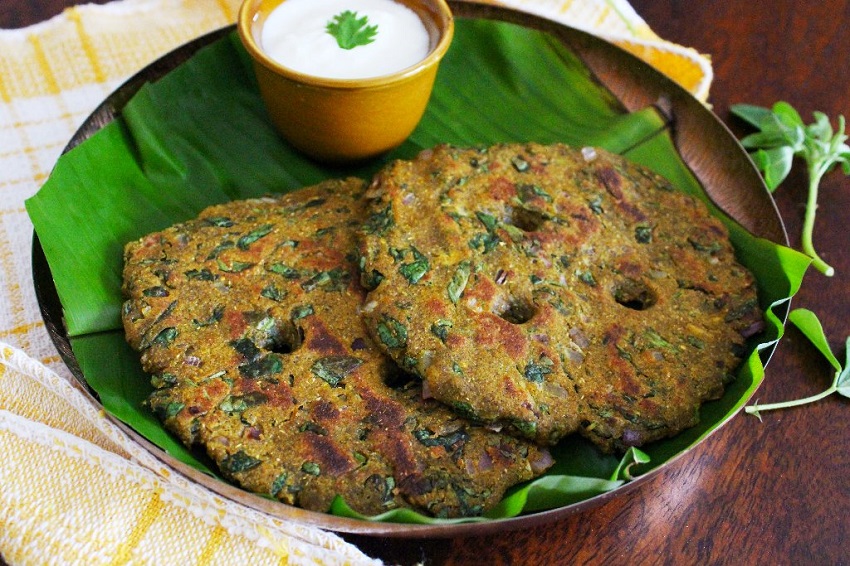 Bhajani is distinct flour made from a combination of millets, rice, and pulses and you can make gluten-free roti from it. The proportion of the ingredients varies from one place to another, but the one listed below is my mother's secret recipe that has been handed down from one generation to the next. The output made from this combination is delicious; crisp from the outside and soft from the inside. And the best part is that the flour obtained from this proportion can be stored in an airtight container for longer periods of time.
Making of the Bhajani Flour
Ingredients: 2 cups raw rice, 2 cups Jowar, 1 cup whole black urad, 1 cup coriander seeds, 1 cup medium Poha, ½ cup brown chickpeas (Kala Channa), 1 tbsp. cumin seeds.
Procedure:
You need to dry roast each of the ingredients individually on low to medium heat till you get the aroma of the roasted grains.
Cool the grains, once the roasting is complete.
Grind them into a coarse powder in a flour mill.
Store the flour in a container with an airtight lid.
Making of the Thalipeeth
Mix finely chopped onions, coriander leaves in 1 cup of the Bhajani flour.
Sprinkle some sesame/carrom seeds or both into it depending upon your taste.
Add salt, chili powder/chopped green chilies and knead the mixture into a soft and supple dough.
Make small and equal portions of the dough.
Take a pan; you can use a non-stick pan that is readily available in every household and grease it slightly with oil.
Pat each portion on the pan to make small circles of about 2-3 mm thick.
Cook on both sides on medium heat till the appearance of golden spots.
Sprinkle some drops of oil on each side while being done.
Serve hot with home-made white butter. It tastes nice with curds and pickles too.
Tip: If the flour in your airtight container has remained for long on the shelf, it is best to use warm water while making the dough. This will ensure that your Thalipeeth still turns out nice in spite of the many month's old flour.