Pv Sindhu who last night sealed her debuting medal in Rio Olympics 2016 beating Okuhara. Today, she offered a great fight against world champion Marlin by defeating her in the first game with 21-19; but eventually, after that, the latter world champion showed her expertise and snatched away the match from India's badminton sensation PV Sindhu. Although Sindhu lost the final game against the Spain world champion Marlin, yet, she won the heart of everyone sitting in the pavilion and back in India with her excellent play.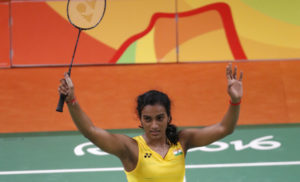 The Indian badminton player showed indomitable determination and never dying attitude throughout the match and gave a tough fight to world champion. In the nail-biting game, Sindhu defeated the world champion with 21-19 however, in the next game the Marlin strongly came back and convincingly snatched away game from Sindhu with score 21-12.
The third game the deciding game was no less than a thriller movie where both players showed their intensity and let each other fight hard for each game point. At one point in the third match, Sindhu was five points behind from Marlin but with her never dying attitude she made a great come back. And it felt that like the first game this time too she would manage to win the set.
However, things after the break between the game did fall in India's favor and finally, the Spain world champion defeated Sindhu with 21-15.
Whether P.V Sindhu has lost this game but the way she played against the world champion made every Indian proud, and she has emerged as the winner for us. P. V Sindhu became the first Indian women player to appear in the Olympics final.
Nonetheless, she also managed to secure a silver medal for India in Rio Olympic 2016. She is the first woman of India who has won the Silver medal for India in the Olympics ever. So, whether she lost in the final match, today she made every Indian proud.. well played Sindhu.