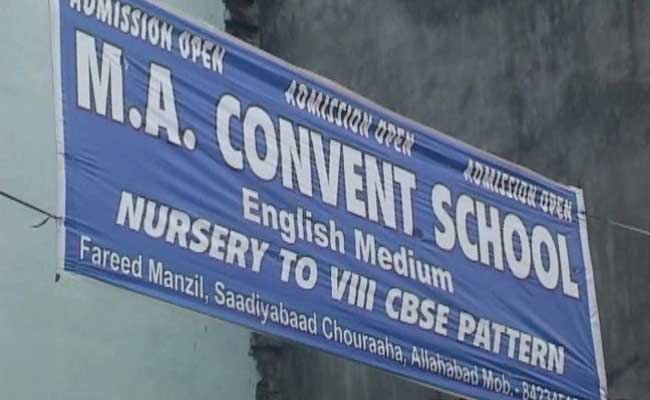 Allahabad in Uttar Pradesh School Bans National Anthem
A school in Uttar Pradesh's Allahabad that obviously never permitted the singing of the national song of praise esteeming it "un-Islamic", has been closed down and its supervisor has been captured after a few instructors surrendered over his refusal to permit the hymn this Independence Day.
Zia-Ul Haq, the supervisor of the MA Convent School, has been captured under a law against "Affront to National Honor". He has additionally been blamed for running the school illicitly.
A senior local official, Andre Vamsi, said Mr. Haq's announcements had brought on "pressure in the public arena" and police grievances had been recorded against him.
Mr. Haq had told instructors that it is inadmissible for Muslim understudies to sing the words Bharat Bhagya Vidhata – which he translated as "India is the master of its kin" – as just God is the ruler.
"The greater part of us have not been working here for quite a while. We were stunned to discover that the school has never permitted the singing of the national song of devotion in the most recent 12 years," said Ritu Tripathi, the school's important, who surrendered yesterday alongside seven educators.
"We were requested that fall in line or leave, so we picked a choice in light of our inner voice," she included.
Prior to his capture the previous evening, Mr. Haq had told NDTV that he had not permitted the song of devotion "remembering the perspectives of Muslim guardians".
"Muslims trust that the Almighty is the ruler of everybody, including all Indians… Indeed, even the Supreme Court has said that a man is allowed to not sing the national hymn if any part of the song of devotion is against his or her religion," he said.
State training authorities say they are examining how the school worked for over 10 years without legitimate consents.
"We had sent its administration a notification to close the organization around a week prior. We are shocked to discover that the school is as yet running," said Jaikaran Yadav, a training officer in Allahabad.
The school has around 300 understudies from nursery to Class 8.
Reference : http://www.ndtv.com/india-news/up-school-bans-national-anthem-teachers-quit-manager-arrested-1441433