Many of us go down in defeat while confronting adversaries in our life. However, there are some courageous people who are brave enough to take this as an opportunity and give adversaries a tough fight. Today, we have brought to you one of the most inspiring stories which will raise your confidence if you have been feeling depressed.

This is the story of Arunima Sinha who challenged god's verdict.
Let me take you through the inspiring story of Arunima Sinha.
1) Arunima Sinha became the first Indian amputee to climb Mount, Everest.
2) Arunima was a national level volleyball player. Once, she was traveling in a train from Lucknow to Delhi on April 11, 2011.

3) She was boarding on the general coach as she had to appear in the C.I.S.F exam.
4) However, the fate had some other plans for her. While traveling on the train, she got encountered with few thieves who snatched her purse, mobile and threw her out of the running train.
5) Since she was thrown out of the train, she eventually fell on the other track and went unconscious. Unfortunately, the train came to the track where she was lying, and it severely crushed her right leg. 
6)  Luckily she got medical aid, and her life got saved. However, she was admitted for four months in AIMS hospital. The worst part was that doctor cut her right leg to prevent infection to save her life.
7) During her stay in the hospital, media made this issue a highlight, and that helped her gaining immense support from all over the world.
After getting discharged from the hospital, she was aware that her career as a volleyball player had come to an end.
So did she quit and lose her hope?
No, she continued fighting.
8) She gained inspiration from several great souls and came out with a goal that she wanted to climb Mount Everest. 
9) At first, things seemed quite difficult. But she got excellent support from her parents, brother, and coach.She started training gradually.
10) She then met the iconic Bachendri Pal who was moved on seeing her indomitable spirit.She started training at Uttarkashi Camp.
11) Finally, on April 1, 2013, she along with Susan Mahto a TSAF instructor reached at the peak of Mount Everest.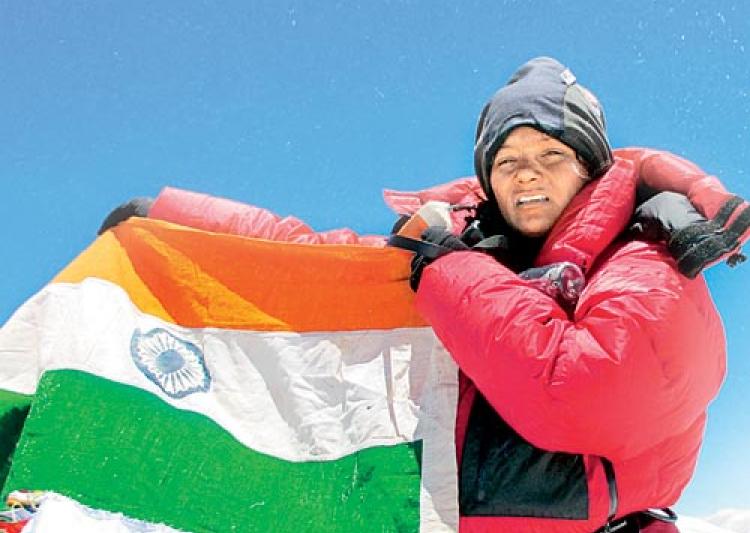 12) After toiling for 17 hours, she reached the Peak of Mount Everest on 21 May 2013, and she took 52 days to reach the peak.
She showed the world that if you determine to achieve something in your life, then no obstacle in the world can stop you to acquire your goal.