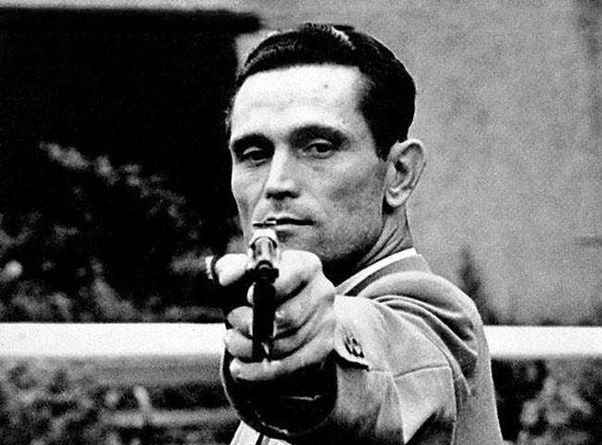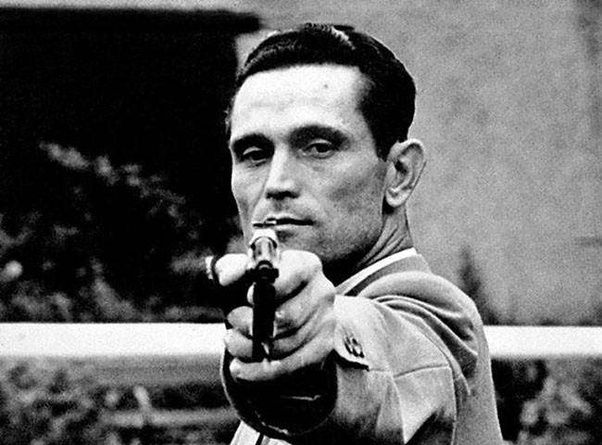 KAROLY TAKACS: A MAN WHO NEVER QUIT
"Winners never quit and Quitters never win" so is the crux of the inspirational life of Hungarian Champion Shooter KAROLY TAKACS  who won 2 Olympic Gold medals with his left hand after loosing the right hand(actual shooting hand) during army training when a hand grenade blew off in his shooting hand.
The real life Champion not cried over the split milk and showed rock like determination by training from left arm for a year.
In 1939 Hungarian National Shooting Championship, when he moved into the stadium, other shooters approached him to show their condolence but they were surprised that this man there was ready to defeat them and did so. But his Stars were not ready to change.
Due to World war 2 Olympics of 1940 and 1944 were cancelled. This gave a jolt to his life's only dream and one would have cursed his luck and would give up.
But this winner was not ready to quit and decided to fight with all odds. What happened next, made him a hero not only for his country, but an inspiration for everyone.
Tackas kept on training in these years and when he participated in Olympics of 1948, by that time he was already of 38 years of age.
Tackas was to compete with people much younger to him. But he did not pay any attention to this. He competed hard and not only fulfilled his dream but with a World Record in Olympics Pistol shooting. KAROLY TAKACS did not stop here and won another Gold Medal in 1952 Helsinki Olympics.
Such is the story of great KAROLY TAKACS who showed that if you decide something with full determination than no obstacles, no adversaries, nothing can stop you from achieving your goal. So have a dream with full determination and you will have it.
Best of luck for you goals