The battleground of the largest populated state uttar pradesh is set and all the parties have pulling their own weight and busy in finalizing their strategy. Every party whether it's state ruling party Samajwadi Party, BSp or Bjp is thumping their chest with confidence that they will attain full majority in upcoming uttar pradesh assembly  election 2017. However, according to ABP News & Nielsen Survey which was conducted back in March clearly indicates that this time battle of uttar pradesh is going to extremely tough & interesting.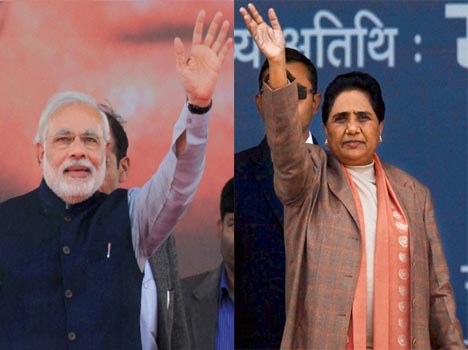 The survey clearly indicates that if elections are to be held today, then incumbent government is likely to be loss and bsp will emerge as winner among all other parties.
The survey gauges the current mood of the voter and it clearly shows that people are not happy with Akhilesh performance and they are looking to overthrow current government out of power.
However, BJP which has been claiming that this time they will form government in state are facing huge challenge from Bjp Supremo Mayawati.
According to Abp news & nielsen survey, if elections are held today, so BSP will get 185 seats, BJP will get 12 seats, Sp will only manage to get 80 seats.
This survey is enough to put heart in mouth for BJP and SP. Both parties need to revive their strategy for upcoming 2017 up assembly election.
However, for BJP Good news is that 62% of People in survey are satisfied with modi's performance as Prime Minister.
This will definitely come as sign of relief for BJP Supporters. Bjp Supporters has also got something more to cheer because modi's popularity is still intact and he has emerged as the most popular leader in Uttar Pradesh elections. Mayawati comes in at second position closely followed by the current Chief Minister, Akhilesh Yadav.
The upcoming Uttar Pradesh elections are going to be do and die election for BJP because the outcome of this election will strongly impact the 2019 elections. If BJP succeeds to win UP elections, then Narendra Modi will likely to hold the Prime Minister's office for his Second term. The loss in the state will surely going to be set back for Modi's popularity and denial for Government policies and work.