Bollywood stars get immense love and admiration from their fans. They acquire everything ranging from name, fame and lavish lifestyle.
Seeing them on television or big screen make people believe that they have perfect lives, but do they really have perfect lives? Well.. this is a big question, Bollywood stars are also a human being, and they also have the desire, and they also commit mistakes which a normal person make in his/her life. Today we are going to tell you the ten most shocking extramarital affairs of Bollywood stars which will make you realize that they are one of us and have nothing special.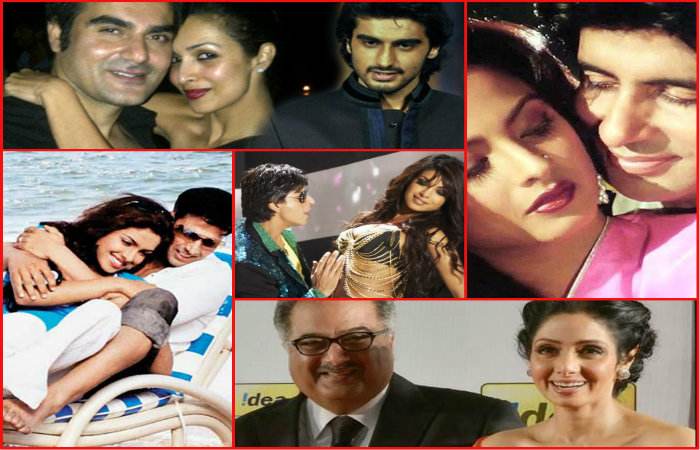 Arjun Kapoor And Malaika Arora Khan: The wife of bollywood superstar Salman Khan's younger brother Arbaaz Khan is reported having an extramarital affair with Arjun Kapoor. Arjun Kapoor who was earlier reporting dating Salman sister had been caught red-handed by Alvira in compromising situation with Arjun Kapoor.
It is speculated that the marriage of Arbaaz and Malaika fell apart because of this alleged extramarital affair.



Hrithik Roshan And Sussane: The Bollywood superstar Hrithik Roshan love story with his wife is like a fairy tale. Nobody ever thought that this couple would be seprated in future, but, it happened because of infidelity of Hrithik Roshan who had been romantically involved with Barbara Mori and later with actress Kangana Ranaut. Even reports also surfaced that Sussane was also dating Arjun Kapoor while being in a relationship with Hrithik Roshan. However, later both denied their affairs, but, now they both have happily parted their ways.
Shahrukh Khan And Priyanka Chopra: Considered as family man and most loyal couple of Bollywood Shahrukh and Gauri, their marriage has also experienced a rough patch when Shahrukh Khan was allegedly linked up with actress Priyanka Chopra. The media was abuzz with an affair between the two when they both were seen together in several parties and award function. However, this link up news did not go down well with Gauri and he warned Shahrukh to maintain a distance with Priyanka.
Amitabh Bachchan And Rekha: Amitabh and Rekha are the most controversial and talked affair of Bollywood. The rumors of their affair initiated doing the rounds when Amitabh did a string of movies with Rekha in 70's and 80's. They were termed as most successful Bollywood couple. However, neither Amitabh nor Rekha admitted their alleged affair publicly.
Ajay Devgn And Kangana Ranaut: Rumours were abuzz that Ajay Devgn had dated Kangana Ranaut during the shooting of Once Upon A Time in Mumbai. The relation blossomed at the sets of this movie. As per a leading magazine, Ajay succumbed to the charms of his costar. Later, they signed movies together which solidified the rumors. In one interview Kangana threw a hint that she is dating Ajay Devgn. However, the actor kept mum over the relationship.
Govinda And Rani Mukherjee: The Dancing Superstar got stumbled by love with Rani Mukherjee during the shooting of "Hadh Kar Di Apne". In fact he gifted Rani a flat and expensive car. And, if reports are to be believed, he left his family and moved to live with Rani. However, later on, he realized his mistake and returned to his family.
Bonny Kapoor And Sridevi: Boney Kapoor cheated on wife and went to marry Sridevi leaving the wife and his son Arjun Kapoor.



Shatrughan Sinha And Reena Roy: It is one of the most controversial affairs of Bollywood. Shatrughan Sinha who was married to Poonam Sinha at that time cheated her for Reena Roy. Both have given numerous hit movies to the Bollywood . And they were considered to be one of the most successful couples of 70's and 80's. In fact, Shatrughan Sinha was caught by Poonam on several occasions. Finally, the affair ended when Reena Roy got married.
Saif Ali Khan and Rosa Catalano: Saif Khan also had extra marital affair with model Rosa Catalano when he was married to actress Amrita Singh.
Sushmita Sinha and Vikram Bhatt: Vikram Bhatt had an extramarital affair with Susmita sen when he was married to Aditi Bhatt.