The wedding is undoubtedly the most auspicious occasion in any girl's life. And, the importance of this event itself gears up while talking about Indian marriages. Indian marriages are well occupied with a series of customs, rituals which have their own significance.  Hence, based on the above explanation, it is reasonable to state that Indian marriages are different from marriages that take place in other parts of the world because of its distinct customs, traditions, and rituals which sounds peculiar to the people of other countries.
Mangalsutra in Indian Marriage
Talking about one such tradition that may sound peculiar to the people of other countries is wearing of Mangalsutra by Indian brides. A Mangalsutra is an Indian ornament that is must jewelry for any bride to wear during and after her marriage.
It has cultural significance. The Mangalsutra is comprised of two words 'mangal' (holy) and sutra( thread) means a sacred thread that is being tied to the neck of the bride by the groom during the marriage ceremony. The importance of Mangalsutra in the context of Hindu marriages can be esteemed from the fact that the use of Mangalsutra is also mentioned in the Indian mythology and sacred texts. It is expected from a bride to keep wearing this benevolent piece of jewelry item in their neck for the sake of her husband's longevity and prosperity in her married life.
We Indians are quite familiar with this piece of jewelry item especially those who are a die-hard fan of Bollywood movies or daily soap. They must be familiar with this jewelry item because in every second movie or serial either the female or male protagonist preaches us about the importance of Mangalsutra. Not only in North India, even in South India and almost all across the India brides wear this auspicious jewelry item.
Let's have a glance at the different types of Mangalsutra worn by Indian brides all across India.
North Indian Mangalsutra:
North Indians Mangalsutras are mainly that Mangalsutra which you have mostly seen in various serials and movies. It is a set of black beads strung around a thread teaming up with a gold or Jadua pendant in the middle. The gold pendant is often termed as Tanmaniya.  Apart from gold Mangalsutra, nowadays brides love to experiment with this jewelry item. Therefore, nowadays different varieties & designs of Mangalsutras are being prepared as per the demand of brides such as Jadau Mangalsutra sets, diamond Mangalsutra set and precious gem embedded Mangalsutra set.
Marwari and Gujarati instead of wearing gold Mangalsutra go for diamond Mangalsutra.  The diamond-studded Mangalsutra comes in the variety of shapes that fulfills the appetite of fashion & latest trends.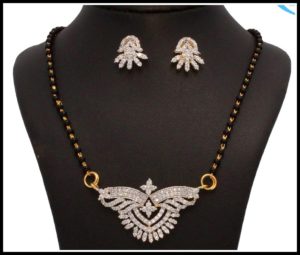 Bengali Brides
Bengalis have no custom of Mangalsutra. Married Bengali ladies wear Shakha Paula bangles compulsorily. Shakha originates from Shankha, which means conch while Paula is made of corals. One arrangement of the bangle is worn on every hand by every married woman.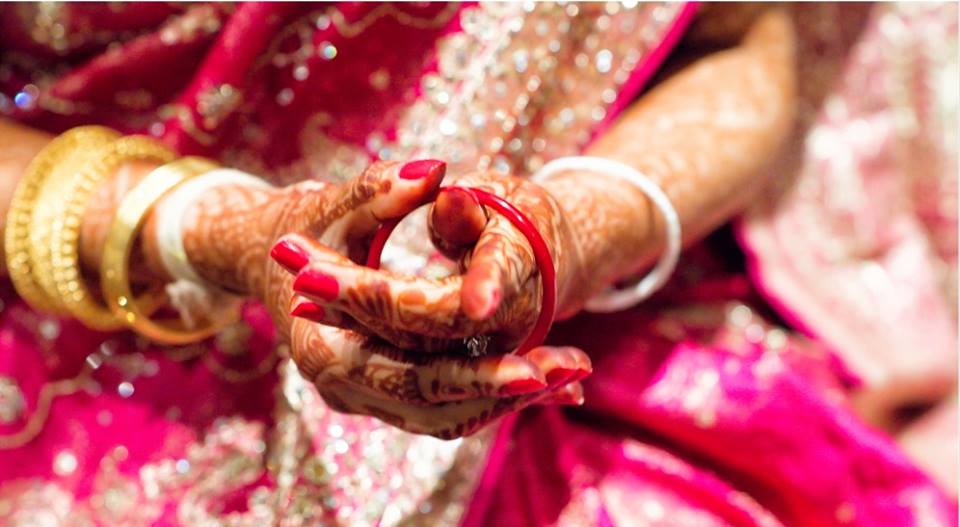 Sikh Brides
The formal engagement or Kurmai is normally a family undertaking. The bride's family goes to the groom's home conveying endowments that incorporate desserts, garments, and jewellery The bride's dad gives the husband to be a gold ring, a Kada (Gents Bangle) and gold Mohre (coins). Later, these coins are hung in to a dark string and given to them to be the bride. She wears it around her neck and it is much the same as the Mangalsutra worn by Hindu ladies. Be that as it may, amongst Sikhs, the bride wears this string just amid uncommon events. Chuda (wedding bangles) are a more critical image of marriage for Sikhs than whatever else.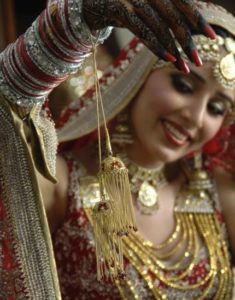 Bihari Brides
In Bihar, the bride wears Taagpaag which is a dark beaded chain with gold pendant similar to the Mangalsutra. Aside from this, the toe ring shapes an imperative image of the marriage for Biharis.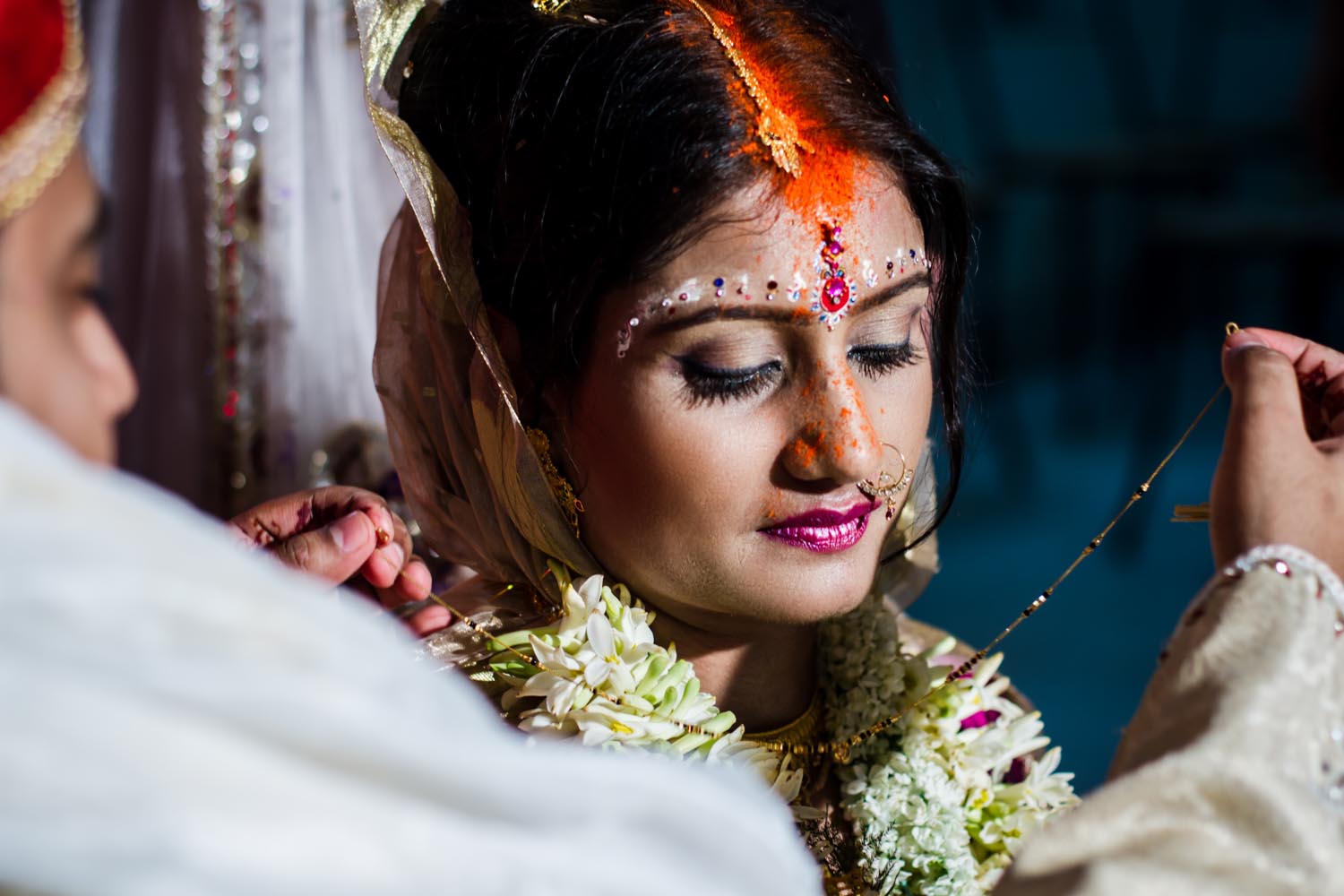 Marwari Brides
The Marwaris don't have a convention of Mangalsutra, yet after some time has acknowledged that in their traditions. It's not ordered for a Marwari wedded lady to wear them. The vital jewelry which is the character of a recently married Marwari lady is the Chuda (wedding bangles).
Oriya Brides
There is no custom of Mangalsutra among Oriya ladies.
Kashmiri Brides
Kashmiri Pandits have "Dejhor" which can be considered in close likeness to the Mangalsutra of the Hindus. These are the richly formed brilliant decoration, all most the extent of an almond, suspended through both the ears either by a brilliant tie or hued string up to mid-section from the day of the marriage. The "Dejhoor" is suspended through the ears to hit with the ladies' mid-section for wishing the long existence of her significant other. It is considered dreadful if the bride somehow lost her Mangalsutra. Therefore, it is expected from them to protect it because it is the symbol of true love and longevity according to their tradition.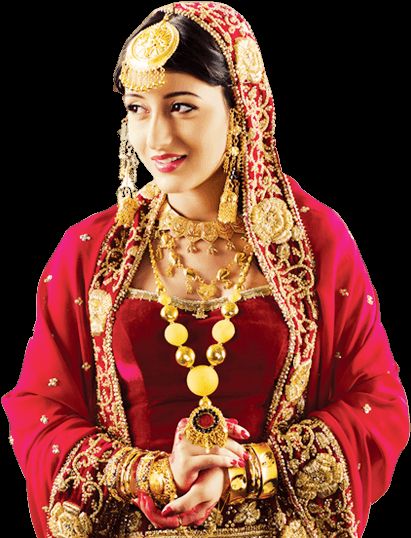 Sindhi Brides
For Sindhis, Mangalsutra is still an essential part of the marriage. For the most part, made of gold, they are worn with dark and gold beaded chains. The Mangalsutra is by and large from the lucky man's side.