Do you admire & idolize watching Bollywood actresses? And want to do whatever they do in their lives. Often we presume that our Bollywood stars are so perfect that they do not commit any mistakes or have any bad habits which are not true. Today we are going to share with you the name of 9 Bollywood actress who smokes and drinks alcohol in their real life.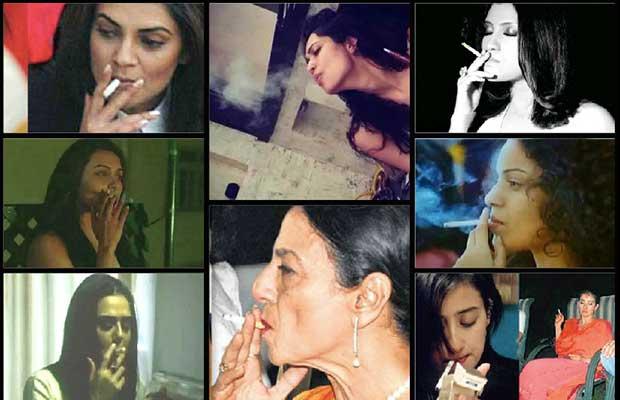 Rani Mukherjee: The famous Bollywood actress and daughter-in-law of Yash Chopra are believed to be a chain smoker. She can smoke several cigarettes in a row and known for drinking alcohol. In fact, it is being rumored that she can't start a day without a smoke. Her family does not like her this habit at all, but she is failed to quit smoking.
Kangana Ranaut: The two National Award winning actress is also addicted to smoking and drinking. She is also known to be a chain smoker.
Sushmita Sain: The miss universe does not resist to smoke. In fact, it was reported once that she is addicted to alcohol, smoking, and gambling. However, the actress has denied all these rumors. But according to Bollywood insiders, she is often seen smoking and consuming alcohol.
Konkona Sen: The famous Bollywood actress Konkona Sen was once a chronic alcoholic and smoker. However, later in 2010, she quit smoking and alcohol.



Manisha Koirala: The actress who fought with cancer once took up to liquor bottle to cope with depression.
Jaya Bachchan: Yes, this would be a surprising name for the movie lovers. The iconic actress is believed to be a big alcoholic and can't live without alcohol. However, nothing has ever come in public regarding the same.
Silk Smita: The ravishing and seductive actress of 1980's were taken up to the bottle when her career started dwindling and she faced financial problems.
Rakhi: The famous actress also found solace in alcohol when she both husband's cheated her for Meena Kumari. This led her to drink.
Meena Kumari: The "tragedy queen" of Bollywood died at the age of 39. And the reason for early death was due to excessive use of alcohol, cigarette.