A heart wrenching image has been circulating around the internet since yesterday. A poverty -stricken man was obliged by our insensitive system to carry his wife's dead body on his shoulders for 10 kilometers alongside his twelve year daughter.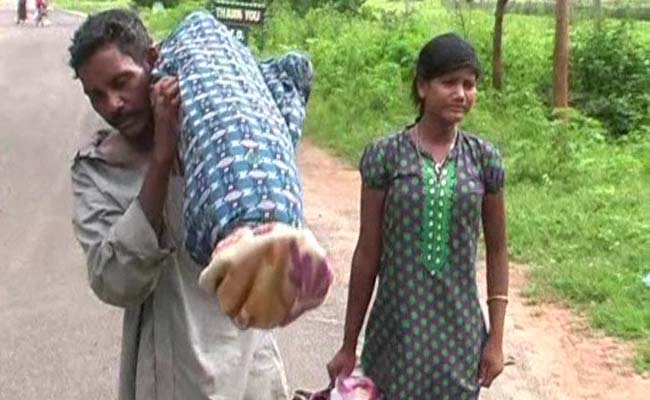 The incident occurred in in Odisha's Kalahandi district where hospital staff denied to provide ambulance to poor tribal man, who had no money to pay the charges of Ambulance. His 42-year-old wife Amang Dei was suffering from tuberculosis and expired in the morning of 25th August.
The hospital authorities refused to provide ambulance because the poor man had no money to offer them. Despite his all efforts and pleading the hospital authorities heart did not melt.
Seeing no help coming his way, he decided to embark his journey toward his village which is 60 kilometer from the hospital along with his daughter on foot. On his way he was spotted by hundred of passersby who prefered to film him instead of offering some help.
However, after he completed 10 kilometer of his journey, some local journalist came to his rescue. They communicated with district collector and arranged an ambulance for the remaining journey.
[embedyt] http://www.youtube.com/watch?v=aGK6HVcXpPo[/embedyt]
On being asked about the incident dana manjhi said that "The hospital authorities said that there are no vehicles. I pleaded with them saying I am a poor person and cannot afford a vehicle to carry my wife's body. Despite repeated requests, they said they cannot offer me any help," Dana Manjhi told Odisha TV.
However, hospital authorities refused all the allegation and said that they had arranged the ambulance. But Dana Majhi left the hospital with his wife dead body in Night. And when they received the news that he is carrying dead body on his shoulder; they immediately sent ambulance for his assistance.
The administrator has now offered him help with the funeral under a government scheme. Nonetheless, these kind of incidents depicts that whether government is claiming about the success of make in India And boom in Indian Economy. But, these kind of incidents portrays the reality of those claims.