Surgical Strike in POK (Pakistan)
After 10 days of the Uri attack in Jammu and Kashmir that was claimed 20 Jawans of Indian Army, It was became necessary for Indian army to teach a lesson to Terrorists. And India carried out surgical strikes in POK, inflicting heavy casualties on terrorists and those protecting them. They fully destroyed 7 Camps of Terrorists. Indian army carried out a surgical strike at 12:30 AM to 4:30 AM with nearly 150 Brave commandos with a brave and Experienced Commander Ajit Dobhal. Indian militry has proved in the world that Indian Force cannot bear such attacks again and again. Now it is right time to teach a lesson to Terrorist's and their leaders who are promoting Terrorism in India.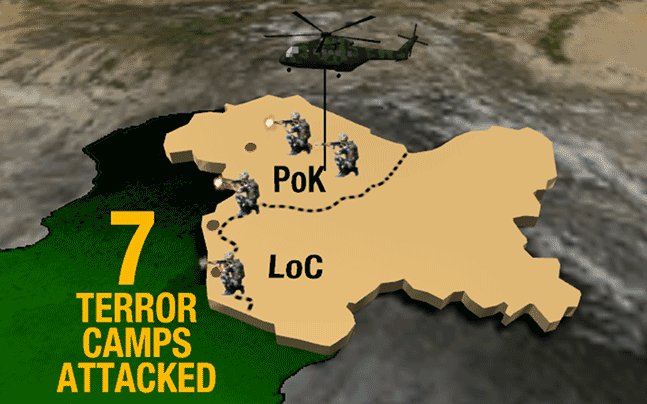 After Surgical strike DGMO of Indian Govt. Lt Gen Ranbir Singh announced in Media that Pakistan had been informed about the strike and that India has no intention of continuing the operations against Pakistan but is ready for any reaction from the Pakistan side.
The response, first of its kind across the Pakistani border during peace time, was based on specific intelligence, claim reports.
Here's what happened in Four hours of Surgical Strike in POK, according to reports:
1. Operation begins around 12.30 am on Wednesday. Indian Paratroopers from Special Forces were involved.
2. The commandos were Air-dropped at the LoC, from where they crossed over to the Pakistani side.
3. Then Indian commandos bravely entered three kilometres across the Line of Control in POK to conduct the 'surgical strikes'
4. According to reports the strike was carried out in Hotspring, Bhimber, Kel and Lipa sectors on Pakistan's side of LoC.
5. The location was 500 meters-2 Km across LoC.
6. According to sources seven terror launch pads of terrorists were destroyed by Indian Force during the surgical strike.
7. 38 terrorists and 9 Pakistani Rangers were killed by Indian Army in surgical strike without any Indian casualties. Those killed included terrorists, their guides and handlers and many other terrorists wounded according to sources.
8. Helicopters were used in this Mission strike ends at 4:30 AM.
Why did India decided to do a Surgical Strike in POK ?
The DGMO informed the option of surgical strikes was taken by Indian Government in the wake of increase in infiltration bids. Many terrorists had begun was gathering in along the LoC with the motive of crossing the border and targeting locations in Jammu & Kashmir, as well as other metros in India. In this scenario surgical strikes was considered the best option to deal with the threats.
The Surgical strikes does not mean war against any Country.
Surgical strikes are military operations undertaken by forces across the world to move on the offensive, hit enemy targets and installations, and return to primary positions, all with lightening speed and with the added precaution of suffering limited casualty.
The Surgical strikes require not just detailed and exhaustive planning but need to be carried out with absolute precision to achieve the objective of taking down targets with either no or minimal collateral damage.