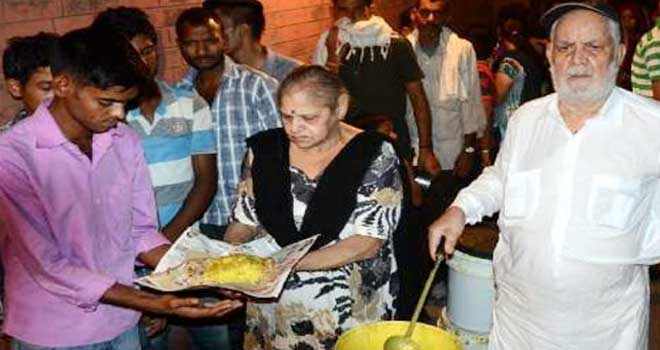 In this selfish world where everybody is self-centered and wish only their well-being, but still there are few people left in this world who teaches us the real essence of life.
Today, we are going to share with you the inspiring story of Man who sells his property to feed patients and poor people who have no money to full their basic needs.
Unlike others who either collect money or seek government support, this man famous known as " Langar Baba." sells his own property to feed people.
The real name Jagdish Lal Ahuja this 80-year man has been well-known figure among the poor. Everyday, he stands out in front of Government Hospital or PGI to distribute free food to the beggars, patients, and attendants.
The astonishing thing about him is that he has not taken a single day off for last 15 years. There were times when ran out of money, but he sold his property to run his noble cause.
He has so far sold his six properties worth crores to feed people.
Recalling his philanthropic activity, he said that he first time arranged free food on the eighth birthday of his son. Soon after this has become his job and there was no looking back since then.
Initial he used to distribute food among few poor children's outside his shop in Grain Market. But one day when he was passing through PGI Hospital, he saw a man distributing food. He asked that man if no one stops him, he said no. From the very next he started distributing free food outside the PGI hospital.
Since then everyday thousand of people have been served free food by Jagdish Ahuja in front of two hospitals.
Every day when the clock strikes at six, a car comes in front of Hospital and people calmly start forming lines outside the hospital. Within minutes people are served fresh food and fruits.
When asked about whether he feel regret that he has to sell his properties to feed people. He smiles and says that no he does not feel regret at all and want to continue this noble cause till his last breadth.